Nickelodeon All-Star Brawl will bring all your favourite Nickelodeon characters together in a Smash Bros. like format.
The games premise is extraordinarily simple, but you would imagine it will be a huge amount of fun. As we stated above, the game is akin to Super Smash Bros., almost in its entirety.
The All-Star Brawl trailer features the below characters (as well as a few leaked ones):
Spongebob Squarepants
Sandy Cheeks – Spongebob Squarepants
Patrick Star – Spongebob Squarepants
Nigel Thornberry – The Wild Thornberrys
Zim – Invader Zim
Danny Phantom
Oblina – Real Monsters
Michelangelo – Teenage Mutant Ninja Turtles
Leonardo – Teenage Mutant Ninja Turtles
Lucy Loud – The Loud House
Lincoln Loud – The Loud House
Powdered Toast Man – Ren and Stimpy
Helga – Hey Arnold
Reptar – Rugrats
CatDog
April O'Neil – Teenage Mutant Ninja Turtles
Aang – Avatar
Korra – Avatar
Ren – Ren & Stimpy
Stimpy – Ren & Stimpy
It's been suggested that many more characters will make their way to the game as time rolls on. Unfortunately, All-Star Brawl will not feature any voice acting from our favourite Nickelodeon characters.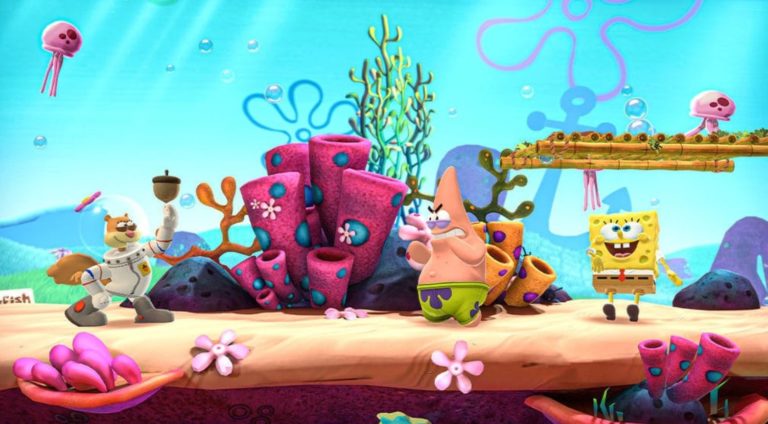 Nickelodeon All-Star Brawl is scheduled to release in Fall 2021 in the US. This is Spring in Australia. There have been some rumours that the game will drop on October 5th, 2021.
Additionally, All-Star Brawl will release on PlayStation, Xbox, Nintendo & Steam.