Thanks to the October edition of PlayStation Plus Collection, we've recently had the chance to sit down and clock some considerable hours on PGA Tour 2K21.
PGA Tour 2K21 was one of those games that's been sitting on my back burners for a while. I mean, I knew I wanted to play it, but there were so many more games in front of them in the queue. But, as has been happening all year, the games added to PS+ Collection has overridden any trepidations I may have had about starting up several games.
I didn't quite know what to expect from PGA Tour 2K21. The last golf games I've played (realistic sims, that is), were in the Tiger Woods series. That's an indication of how long it's been. In fairness, I absolutely loved those games, so it was going to take a fair jolt to displace them from the top of my leaderboard. PGA Tour 2K21 doesn't quite get there, but I've got to tell you, it gave it a really big crack.
PGA Tour 2K21 is developed by HB Studios (NBA Live 19, The Golf Club 2019) & published by 2K. The game was released on 21 August, 2020, however, has become available for PS+ Collection subscribers in October 2021.
Let's dig down into the nitty gritty and find out what we liked, what we didn't and our overall review of PGA Tour 2K21.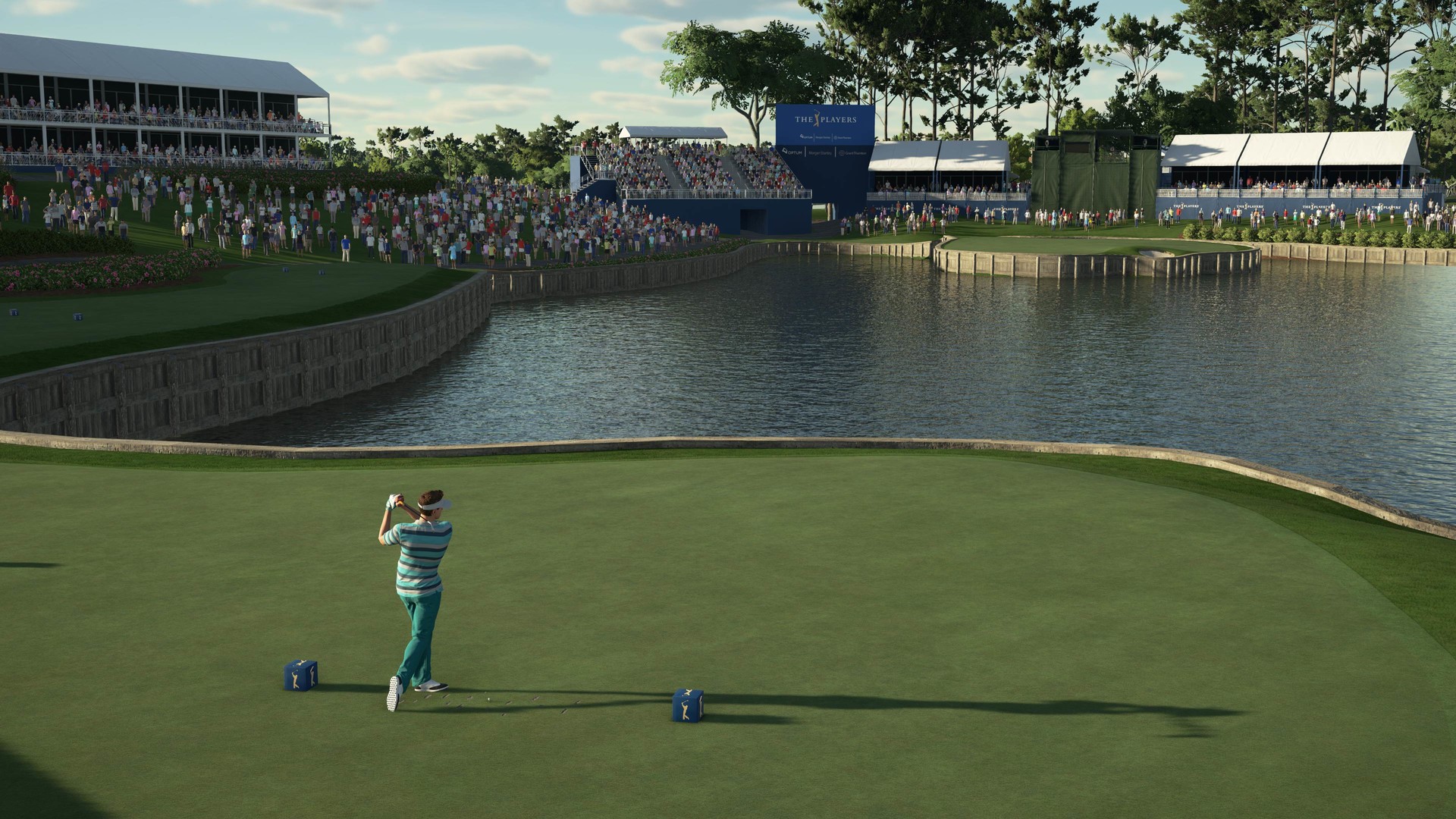 PGA Tour 2K21 offers 7 different gameplay types. These include: Stroke, Stableford, Match Play, Skins, Four Ball, Alternate Shot & 2v2 Scramble.
In terms of game modes, you can dig into a PGA Tour Career, build your dream course, customise your characters, hit the links for a quick rounds or battle your friends (or not your friends) in online matches.
Jumping into a PGA Tour Career is likely where most people will spend their time. I definitely have some pretty strong opinions about this, so I'll attempt to be as concise as possible.
Starting with the positives, Career Mode is fluent and concise. If all you're looking for is playing a season or seasons of golf, this is going to be perfect for you. At the beginning of Career Mode, you start off as a rookie (I guess) and you must play your way onto the PGA Tour. So far, so good.
Once you're on the PGA Tour, you get to ply your trade against the best that the game has to offer. While in Career Mode, you can take on Sponsorship deals and gain experience points which are used to unlock and purchase clubs, clothes and gear.
Now, let's move into the negatives. Their is absolutely no performance system here whatsoever.
Your player is just….your player. There are no attributes or skill trees to which your player can expand their game. This is an enormous flaw for what could otherwise be a terrific Career Mode. Once you get the hang of the game and courses, you're pretty much going to win every tournament you play. If that sounds a bit dumb, it's because it is.
Additionally, the mismanagement of the default clubs made me want to bash my head against a wall. Your player is automatically given the "base" HB Studios clubs. They're also pretty close to the best clubs in the game. Sure, there are others which possess small improvements in accuracy and other such attributes. But the main ones you're looking for (i.e. Power, swing) are already as good as you're going to get.
I found this incredibly frustrating. I want to be starting at the absolutely bottom of the barrell and working my way up to bigger and better rewards. PGA Tour 2K21 offers none of this.
PGA Tour's gameplay is the area in which the game really shines. The play is smooth while the controls are sensible and easy to understand.
I've been mostly playing Career Mode, so it took me about 4-5 tournaments to really find my feet.
I've really enjoyed how the wind, lie and fairway conteurs play a huge part in determining whether your shot will be good or bad. Additionally, the predetermined factors involved in your shot making is a nice touch. As I mentioned earlier, I've come from a Tiger Woods background. As you may recall, those games allowed you to add spin to the ball in mid air. Fun? Yeah, for sure. Realistic? I wouldn't say so.
Speaking of realism, that is where the gameplay truly stands out. PGA Tour 2K21 feels real. At least, as real as a console game is going to get. The only downside I can think of when it comes to gameplay is that once you get the hang of it, the game can be a breeze.
If only real golf was the same.
If I was forced to pull out some negatives, I would point towards the in-game immersion. The unfortunate side-effect of a realistic golf sim is the fact that…it's golf. Golf is a fantastic game, but it's also slow paced and can ruin your day if you hit a couple of dodgy shots. Unfortunately, PGA Tour 2K21 does not go out of it's way at all to immerse you in the gameday spectacle. All it would require is a few slow down moments, a bit more intensity from the commentators and you would be there.
There is a feature that allows you to watch "highlights" of other golfers in the pack. I found this feature highly annoying and remarkably buggy. I've been playing on the PS5 and the game struggled to make the transaction between my game and these highlights.
Anyone familiar with my reviews would know that I'm not a huge graphics guy. I don't really care if the game isn't pushing the boundaries forward with it's character or set designs, as long as it's providing immersive and quality gameplay.
Once again, that's pretty much the stance I've taken with PGA Tour 2K21. Because, and I'm going to be brutally honest here, the graphics kind of suck.
They're not the worst graphics I've ever seen in my life, but for a game released for 2021, and with 2K at the helm, I would've expected a little more.
The character models are fairly lifeless, while the textures on upclose models (such as trees, leafs, grass etc) are blurry and inconsistent.
Additionally, the way the ball interacts with the course is a weird one. Most of the games fairways sound and feel like a putting green. This isn't a deal breaker, and to be honest, not something I care about at all, but it did stand out to me as odd.
This is a fun golf simulator. I absolutely cannot flaw the gameplay whatsoever. However, that's where PGA Tour 2K21's qualities end. This is not a game that's going to immerse you long term. It's a game that's going to give you a fun couple of hours every few weeks (or whenever you feel like playing a golf game).
Multiplayer mode? Perfect. It's a wonderful game to job on and enjoy with a couple of friends. But anything outside of that, and you may want to look backwards to golf titles from the past.
Final Thoughts
Terrific Golf simulator which provides a realistic approach to the golf gaming genre. PGA Tour 2K21 falls down with a poorly thought out Career Mode.
Pros
Realistic Golf Sim
Excellent Gameplay
Strong Attention to Detail
Fun Multiplayer Game Types
Cons
Poorly Thought Out Career Mode
Can't Play As Pros
Terrible In Game Immersion