It's December 1, which means it's time to start tucking into our favourite, and most jolly, Christmas movies and TV episodes. Most people think of movies when they think about their holiday entertainment treats, but the quality and heart-warming nature of sitcoms shouldn't be understated.
Of course, we couldn't add all of the best ever sitcom episodes into this list, because…well, we'd be here for hours and hours. Instead we've put together a collection of the episodes we love, and are set to watch this holiday season.
Without further adieu, here are Some of The Best Christmas Sitcom Episodes Ever.
Christmas: Symphony of Illumination
How I Met Your Mother | Season 7, Episode 12
Robin receives the news that she's unable to have children; however, she decides to keep it to herself. Her friends, desperate to bring her happiness, try everything they can to turn it around for her. Ted surprises Robin with a heart-warming Christmas light show.
Miracle on Third or Fourth Street
Frasier | Season 1, Episode 12
After a big fight with his father, Frasier decides to spend Christmas filling in for Bulldog on his radio show. After a horrific day of talking to desperately sad people, Frasier retreats to a neighbourhood diner, which is the only thing open. He realises that all is not so bad, and decides to ring his Dad and wish him a Merry Christmas.
Christmas
Malcolm In The Middle | Season 3, Episode 7
After Reese, Malcolm and Dewey destroy the Christmas Tree ornaments, Lois threatens to cancel Christmas unless the boys behave themselves. Lois' plan works, but it causes the boys to think that she could wheel out this threat year after year.
Marge Be Not Proud
The Simpsons | Season 7, Episode 11
In the early days of The Simpsons, one of the shows triumphs was its ability to tug at the heart strings when it felt like it. Marge Be Not Proud is certainly one of those episodes.

When Marge refuses to buy Bart an expensive video game, he steals one from the Try-N-Save and gets caught. Marge fears her son is growing out of his childhood and slipping away from her. Desperate to mend the fences, Bart surprises his Mother with a sweet gesture in time for Christmas.
Simpsons Roasting on an Open Fire
The Simpsons | Season 1, Episode 1
Simpsons Roasting on an Open Fire gets a call up to this list because it's the first ever episode of one of the greatest shows of all-time – and it just so happens to be a Christmas episode. The episode itself is very nice. It captures the heart and sole of The Simpsons, as well as giving a glimpse into the personalities that we'll all come to love. Not planning on getting into the, "Is The Simpsons a sitcom" debate in this article. Let's all just agree it is…you know, 'cuz it's Christmas.
Christmas Party
The Office | Season 2, Episode 10
Michael plans a big Christmas party for all of his staff but his gift plan is interrupted they all get swapped. When alcohol is introduced, Jim is concerned that someone else may receive the gift he had picked out for Pam.
Xmas Story
Futurama | Season 2, Episode 8
Fry discovers that the year 3000 version of Santa Claus is an enormous robotic menace who terrorizes people on Christmas Eve. Fry heads out to buy Leela a Christmas present, although is warned to return before dark to avoid Santa. When Fry doesn't return in time, Leela attempts to rescue him. The gang are confronted by Santa Claus and must try to escape.
The Strike
Seinfeld | Season 9, Episode 10
'The Strike' introduced the world to Festivus – a debt to which there is no repayment. Frank Costanza lives out a holiday i'm sure we all wish we could celebrate – telling people how they've disappointed us this year.
Jerry is dating a girl, but he can't figure out if she's attractive or not. Kramer hears word that a 12-year strike at his previous place of employment, H&A Bagels, is now finished. He decides to return to work.
Christmas Cheers
Cheers | Season 6, Episode 12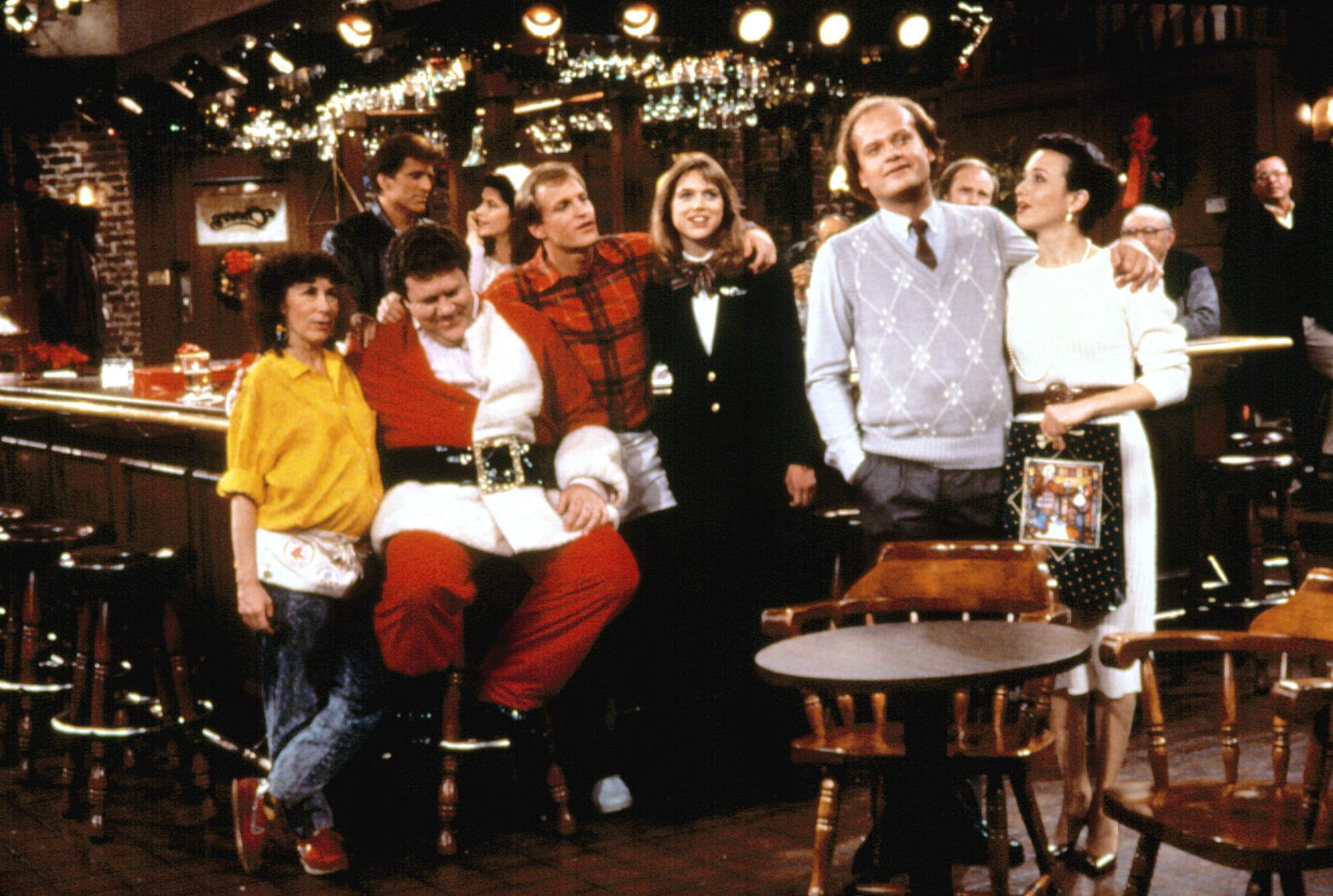 Frasier is in an anti-Christmas mood, which annoys Lilith. Norm fails to mention to the gang that he has a part-time job, dressing up as Santa Claus. Cliff, attempting to win a trip to Disney World, collects food for the needy. Sam realises everyone has a present for everyone else, except he forgot about Rebecca. He rushes out to find a last minute gift.
My Own Personal Jesus
Scrubs | Season 1, Episode 11
After a rough night on call, Turk's faith is shaken to the point where he starts to question his belief in God. Elliot attempts to help a pregnant woman with HELLP syndrome; however, she disappears before they can deliver the baby. While pondering his faith on the roof of the hospital, Turk runs to a nearby park where he finds and helps the pregnant lady.
Frasier Grinch
Frasier | Season 3, Episode 9
Frasier's son, Frederick, is flying into Seattle to spend Christmas with him, and Frasier is over the moon. On Christmas Eve, Frederick's gift arrive in the mail, but Frasier is disturbed to find out that they are the wrong gifts. Frasier and Niles head to the mall to find some last minute gifts. Frasier must confront the fact that he gives gifts that he wants others to have, rather than the other way around.
The One With The Holiday Armadillo
Friends | Season 7, Episode 10
As Ben is half-Jewish, Ross is desperate to teach him about Hanukkah. Ross decides to dress up as an Armadillo, which he dubs, "The Holiday Armadillo". Chandler dresses up as Santa and momentarily steals some of the spotlight away from Ross and the Armadillo.
How Lily Stole Christmas
How I Met Your Mother | Season 2, Episode 11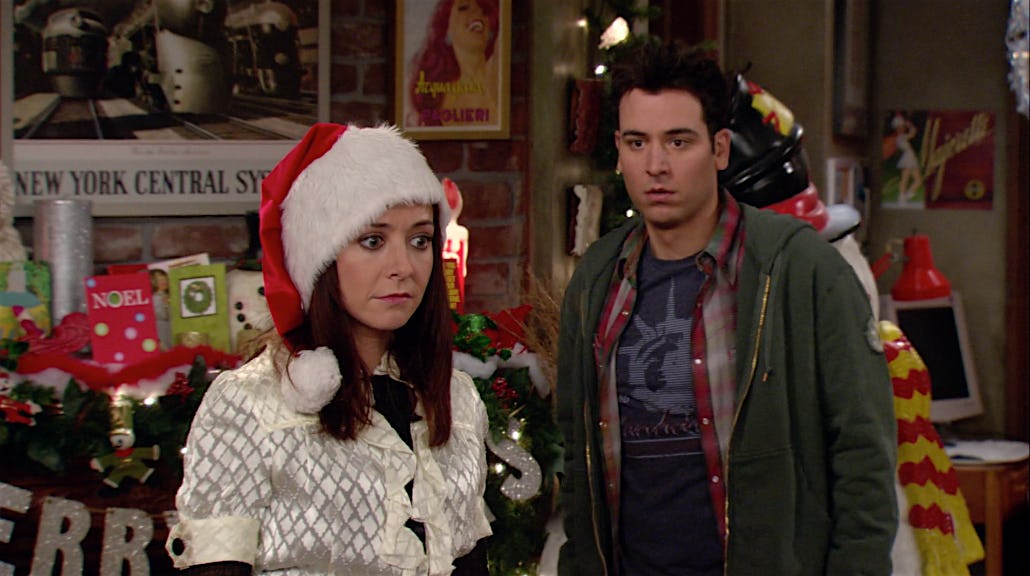 Ted finds an old answer machine. Lily is shocked to find out that while she and Marshal were broken up, Ted left a hurtful message aimed at her. In the message, he called an awful name – although this is covered by the word "Grinch" in the show. Lily, in an act of spite, takes all of the Christmas decorations out of the apartment and sets them up in her tiny apartment. When Lily realises the error of her ways, she seeks Ted out and apologises with a beer.