Cheers is one off television's great sitcoms, and remains a symbol of 80's popular culture. Cheers was set in a bar owned by a former Major League relief pitcher, Sam Malone. Almost all aspects of the show centre in and around the bar. Bar flies, Norm Peterson, Cliff Clavin & Frasier Crane make up the cast of regulars. While Sam Malone, Diane Chambers, Woody Boyd, Carla Tortelli & Rebecca Howe all worked behind the bar.
Cheers ran from 1982 to 1993 on NBC. The show was so successful, a spin off series continued the show's fingerprint well into the 2000's. This show was, of course, Frasier. Frasier, in its own right, became one of the great shows of the 90's and one of the greatest sitcoms of all-time.
In a surprising twist of fate, Cheers was nearly cancelled during its first season. Cheers' premier episode ranked 74th out of 77 shows. Despite this near miss, the show powered on and eventually became a ratings supremo, regularly at the top of the American Nielsen ratings system.
On top of everything else, Cheers has one of television's great theme songs. In fact, we like it so much, we ranked it at #2 in our list of Top 15 Greatest Sitcom Intros.
In total, Cheers filmed 275 episodes of television. This is a whopping achievement for a TV sitcom.
With such a rich collection of episodes, it's hard to distinguish which are the best episodes of Cheers. So, we have once again consulted the ratings system at IMDb to bring you the Top 10 Highest Rated Episodes of Cheers.
When Jeopardy! comes to town, Cliff Clavin manages to make his way on as a boston-based contestant. Cliff, thinking himself something of a quiz master, is boastful of his chances of winning.
An incident causes Cliff to rethink his love of the game. However, after meeting Alex Trebek at Cheers, his faith is once again restored.
Meanwhile, Sam misplaces his black book. The mystery book holder begins a campaign calling women and making dates with them, pretending to be Sam. Sam asks Rebecca for her help in tracking down this person.
Diane's ex-fiancé and former English professor comes to town. He tells her that he's submitted one of her old, unfinished stories to an editor at a publishing house. The editor, seeing promise in the story, has sought out the idea of it being published.
Sam believes his upcoming nuptials with Diane is holding back her budding writing career. Both Diane and Sam agree that either the wedding will happen, or her writing career will happen. They must decide which of these options they're going to take.
It's Frederick's second birthday. As a present, Sam takes Frederick, Frasier and Lilith to see a famous children's entertainer, Nanny G. Woody decides to come along purely because he loves Nanny G, as well.
Frasier notices that Nanny G seems oddly familiar. Eventually he recognises that she's Nanette Guzman, he's first wife. Frasier had thus far neglected to tell Lilith about his previous marriage.
Nanny G wanders through the audience and instantly recognises Frasier. She gives Frasier a passionate kiss, in front of the live audience, Lilith and Frederick. After apologising to Lilith, Nanny G offers to perform a special private birthday party.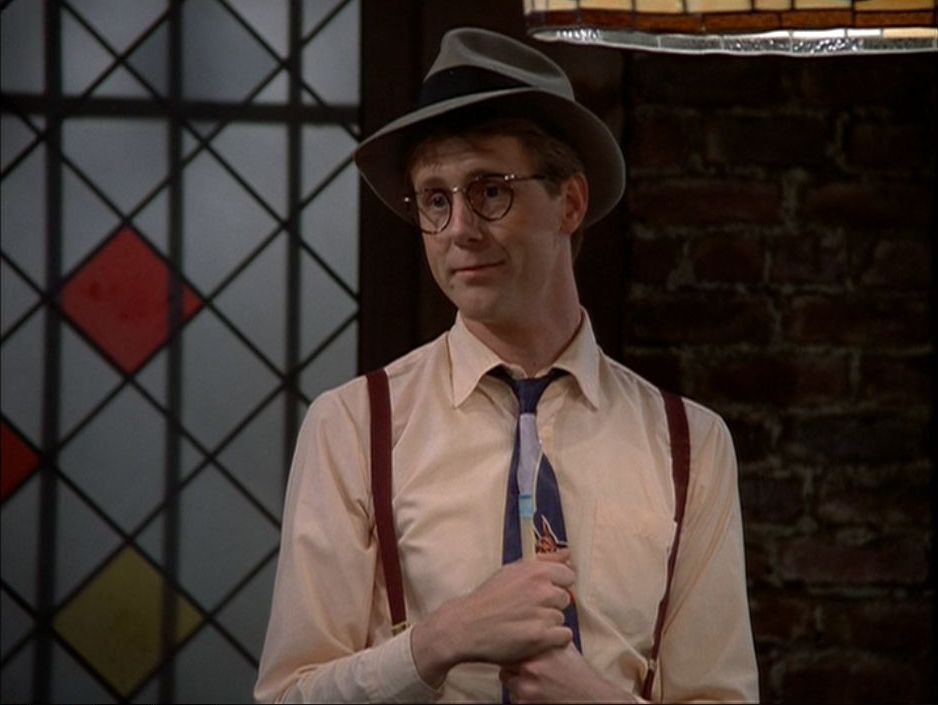 Coach falls victim to a con man, who swindles him out of $8000.
Sam and the Cheers regulars learn that Coach has been conned out of thousands of hard earned dollars. Determined to help him retrieve the money, Sam enlists the help of Harry "The Hat.
Dr. Simon Finch-Royce, a noted marriage counselor is asked to come to Cheers to provide his expertise as to whether Diane and Sam should marry. They are given a particularly bleak relationship prognosis.
Dr Finch-Royce is an old friend of Frasier Crane. Frasier and Lilith had previously enlisted his services as a counsellor.
Dr. Simon Finch-Royce is played by John Cleese, famous for his work on Fawlty Towers and as part as legendary comedy group, Monty Python.

Diane believes Frasier has strong romantic interest in his colleague, Dr. Lilith Sternin, and is hiding his true feelings. Diane sets about with a plan to allow Frasier to reveal these feelings.
Meanwhile, Norm and Cliff head off with Woody on a fishing trip. However, they head off reluctantly.
The Cheers team is recruited to provide bartending service at a wedding.
Naturally, everything begins to fall apart.
Mr. Gaines states that he would kill Woody if he learned that he and Kelly were having premarital relations. Kelly tears her dress, leaving Cliff to attempt to repair it. Meanwhile, the minister dies in the kitchen and the gang scramble to hide the boy and find a last-minute replacement.
In the courtyard, the family's dog is attacking everyone who attempts to walk past.
Diane is asked to spend Thanksgiving with her professors family, celebrating in the traditional pilgrim style. No one else has anything to do on the holiday.
The gang all agree to have dinner in Carla's new home, with a celebratory potluck dinner.
Sam brings his date, while Woody, Cliff and Frasier all come alone. Norm is set to bring his wife, who at this point had never been seen before. However, many invited guests fail to turn up, while Diane shows up at the last minute.
The Thanksgiving dinner transforms into a good old fashioned food fight.
Frasier and Lilith make the announcement that they are moving in together. Since Sam and Diane were responsible for getting them together, they're invited over first.
Some sensitive home truths come to light, making the cosiness and pleasantry of the evening evolve into a rollercoaster of emotions.
One for the Road was the series finale of Cheers. After 11 seasons and 275 episodes, the series was finally pulling up stumps.
Woody sets out on his new career of City Councilman. Woody pulls some strings at City Hall and Norm becomes a civil servant.
Sam sees Diane on TV winning an award. Sam makes contact with her, only for Diane to show up at Cheers. They both lie to each other about how happy they are in their lives. This causes Sam to question what he actually wants.
Norm utters the famous quote, "You can never be unfaithful to your one true love. You'll always come back to her".
Norm, of course, was referring to Sam's one true love, Cheers.