Ah, Seinfeld. It was inevitable that we'd get around to listing the Top 10 Highest Rated Seinfeld Episodes Of All-Time, and frankly, we're surprised we didn't do it sooner considering some 23 years after the series came to a close, it's still widely regarded as one of the greatest sitcoms of all-time.
Seinfeld put together a show which compelled us with incredible, morally-challenged characters. The writers (headed by Jerry Seinfeld and Larry David, but with many other surprisingly big names) did not let the show's quality dip at all. As you will soon find out from the below list, the latter seasons are considered much, much better than their predecessors.
What Made Seinfeld So Great?
It's hard to directly pinpoint exactly why Seinfeld was such a good show. However, much can be said for its ability to subvert to expected sitcom narrative. Seinfeld wasn't interested in towing the line when it came to the episodes construction. Additionally, many of the episodes functioned much like a stand up routine. The show would almost always bring the show full circle, finishing with a line that was at the centre of much of the plot. This is a staple of both Jerry Seinfeld and Larry David's writing skills.
Unlike the traditional sitcom formula, in which the main cast would finish the episode in a happy place (or at least with some epiphanic bliss), Seinfeld took pride in ensuring the main characters finished the show without any sort of happiness or resolution. In theory, it sounds quite odd, but considering our protagonists were mostly terrible people, it just worked.
While we're not picking out what we would consider as Seinfeld's Best Episodes, we are looking at how viewers have reviewed the show. The stats being used have been pulled from IMDb.
Without any further adieu, here are the Top 10 Highest Rated Seinfeld Episodes Of All-Time.
10. The Hamptons
Rating: 90% | Season 5, Episode 20
"You've gotta come see the baby".
In this episode, Jerry, Kramer, George and Elaine travel to The Hamptons to see their friends new baby. While there, Jerry and Kramer see George's new girlfriend topless, much to George's chagrin. Meanwhile, George goes swimming in some cold water, which causes some…shrinkage issues. Jerry's girlfriend accidentally walks in on him while changing and gets the wrong idea. Kramer gets in trouble for pulling in other people's lobster traps.
9. The Limo
Rating: 90% | Season 3, Episode 20
When George's car breaks down at the airport, Jerry & George pretend to be someone else in order to score a ride in a fancy limo. They find out they're going to an NBA game. Things take a sharp turn when they realise George is pretending to be the head of a region chapter of the Aryan Union.
8. The Abstinence
Rating: 91% | Season 8, Episode 9
While George's girlfriend is undertaking medical examinations, George is required to abstain from sex. By doing so, he finds his intelligence constantly rising. When his girlfriend is declared healthy, George must decide whether to continue his abstinence or return to a life of stupidity. Meanwhile, Kramer turns his apartment into a smoking lounge, disfiguring and discolouring his face in the process. He decided to sue big tobacco.
7. The Bizarro Jerry
Rating: 92% | Season 8, Episode 3
Elaine's ex-boyfriend introduces her to two of his friends who happen to be the bizarro version of Jerry, George and Kramer. Elaine must decide which group of friends she prefers. Jerry dates a beautiful woman with "man hands". Kramer takes on an unpaid job at an upscale firm.
6. The Merv Griffin Show
Rating: 92% | Season 9, Episode 6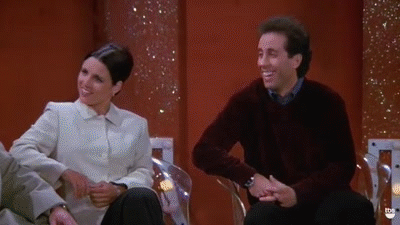 Kramer finds the set of "The Merv Griffin Show" in a dumpster. He decides to turn his apartment into the show's set, pretended to host his friends for interviews. George runs over a flock of pigeons who he believes "broke the rules" and failed to get out of the way of his car.
Meanwhile, Jerry is dating a woman with an impressive collection of vintage toys, but she won't let him play with them.
5. The Marine Biologist
Rating: 92% | Season 5, Episode 14
In an effort to impress an old college friend, Jerry tells her that George has become a Marine Biologist. George must retain the ruse as he embarks on a relationship with the woman. Elaine must impress an eccentric Russian author who has come to America to promote a book.
4. The Outing
Rating: 94% | Season 4, Episode 17
Believing a random stranger is eavesdropping on their conversation, George and Jerry pretend to be gay to mess with the woman. She turns out to be an NYU journalist who wants to interview Jerry for an upcoming story. She 'outs' them in her column causing Jerry to backtrack from the joke. George tries to use this to his advantage to break up with a clingy girlfriend.
This episode is famous for the quote "not that there's anything wrong with that". The episode won a GLAAD Media Award (Gay & Lesbian Alliance Against Defamation) for "Outstanding Comedy Episode."
3. The Soup Nazi
Rating: 95% | Season 7, Episode 6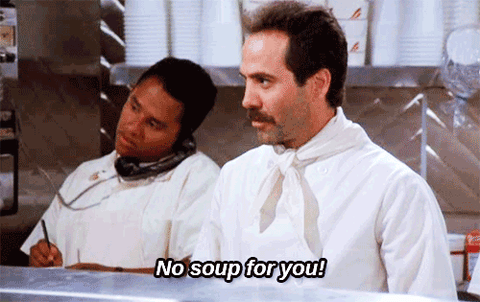 A new soup vendor moves into town – and it's the greatest soup ever. The only problem is the owner and head chef is notoriously short-tempered, refusing service to anyone who acts out of line. When Jerry's girlfriend is banned from the store, he must decide between her and the soup. Elaine gets banned for 1 year for not abiding by the rules.
2. The Opposite
Rating: 96% | Season 5, Episode 21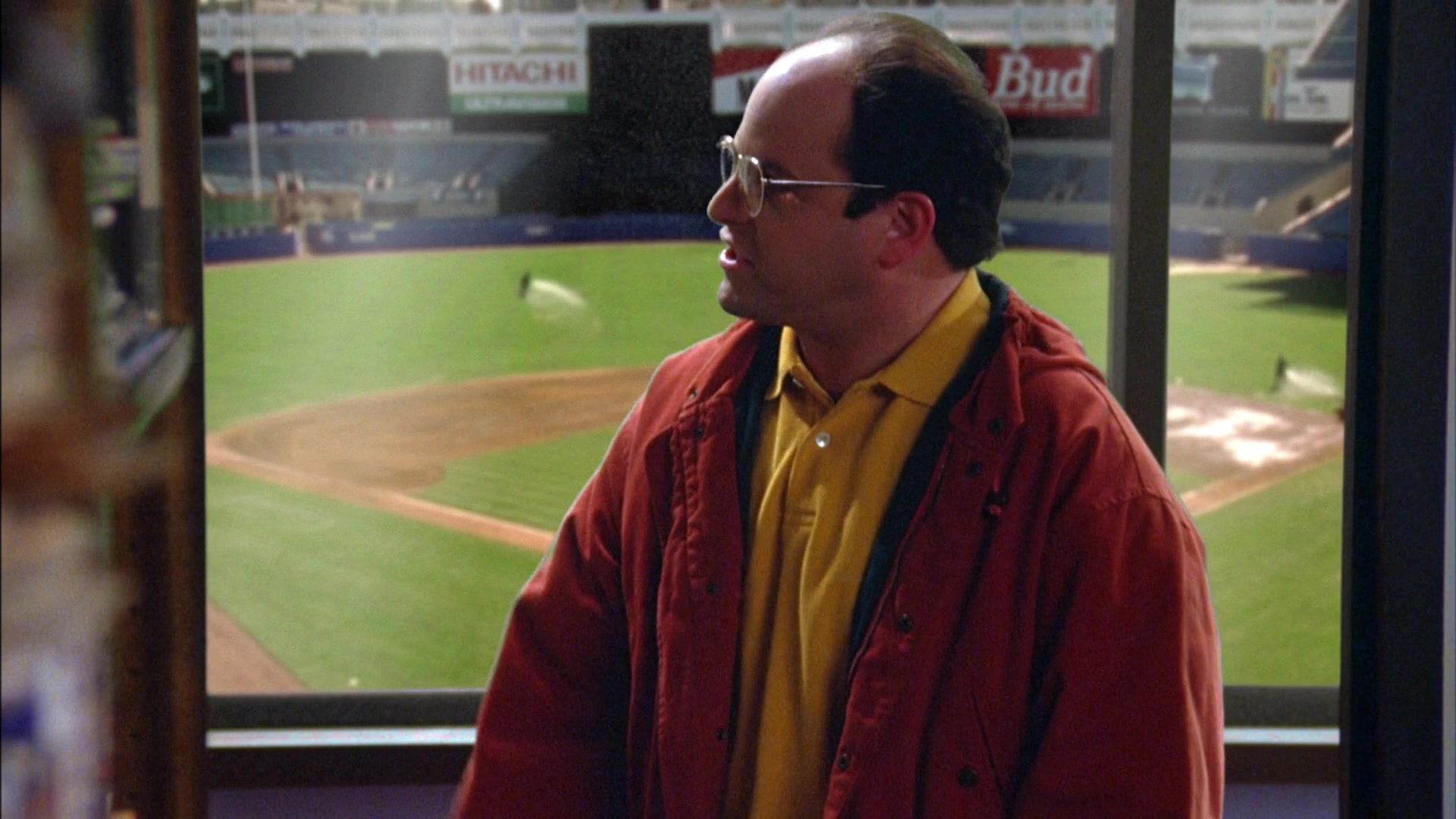 After realising that every decision he's ever made is wrong, George decides to do the opposite of every impulse he has. This new way of thinking leads him to meeting a beautiful woman and scoring a dream job with the New York Yankees. Jerry realises that no matter what happens, he always comes out even. He realises that he's "even Steven".
1. The Contest
Rating: 96% | Season 4, Episode 11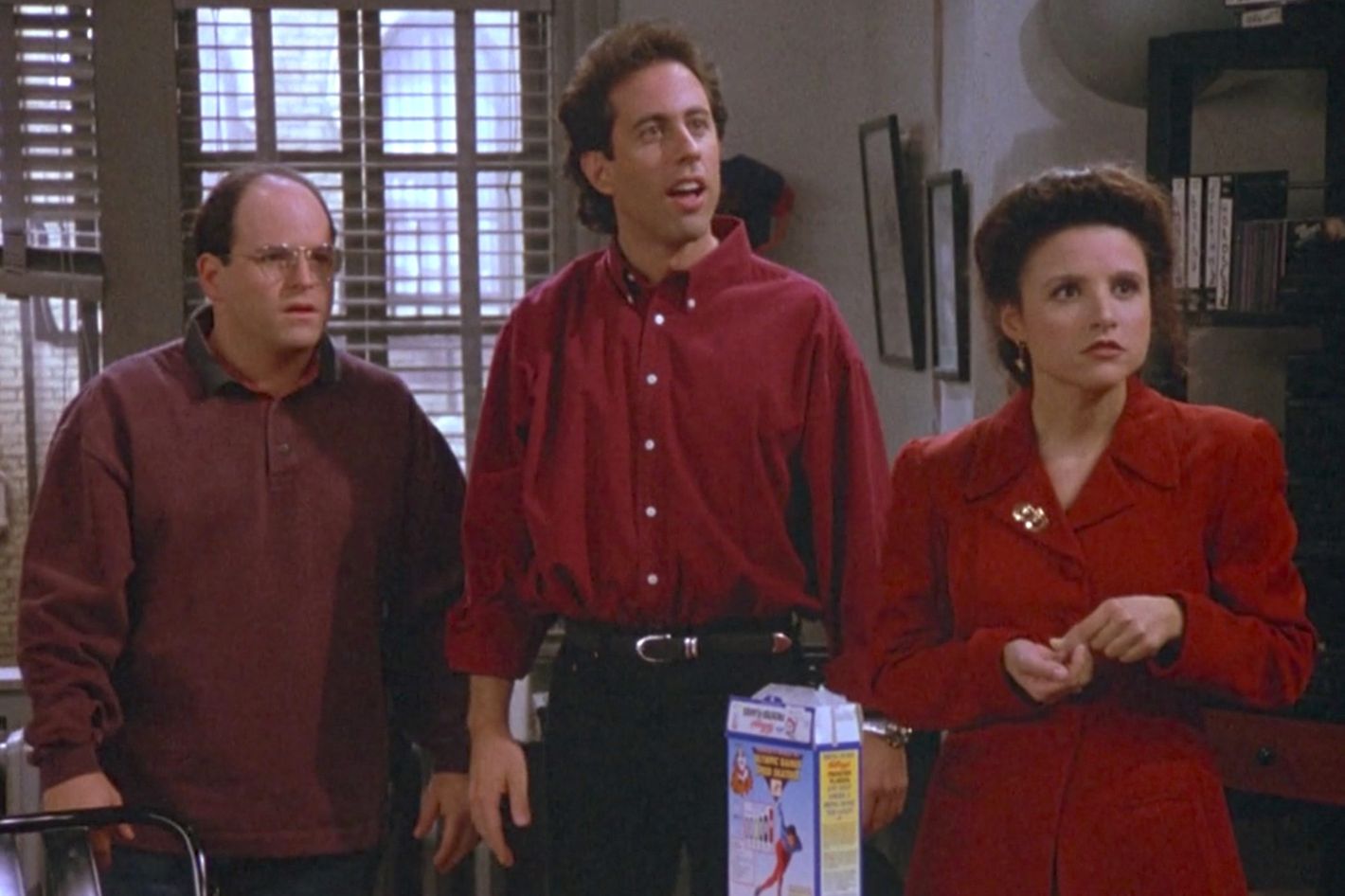 George's Mother catches him in a compromising position, causing her to fall and injure herself. George declares that he's never "doing that again". The gang don't believe him and enter into a contest to see who can hold out the longest. Jerry, George, Elaine and Kramer each go through scenarios which test their fortitude.
The episode is well known for many things, but mostly it's ability to skirt a sensitive issue without actually saying the words.
---
How does this list line up with your favourite Seinfeld episodes? Let us know below.