**UPDATE – March, 2023**
Unfortunately, as of late March 2023 in which we are 4 weeks into a new NRL season, we still have no confirmation that a new rugby league video game even exists. A recent email exchange from the NRL has shed a dim light on when we can be expecting a new game.
The email states that, "there have been a number of unforeseen challenges which we are currently working through."
It also goes on to mention that due to these 'challenges', the NRL does not have any new updates or information to share with fans.
However, in news that will make fans slightly happier, there IS a new rugby league game out in the market. Rugby League Legends '23 has been released on iOS, with a console and Android release incoming. Rugby League Legends '23 is not a simulation, but an arcade-style game; however, this does not take away from any enjoyment. The game is fast paced and full of action. You can get it now on iOS for iPhone, iPad and Apple TV.
These pre-worded emails outline the complete contempt and lack of clear communication between the NRL, Tru Blu & the avid fans of Rugby League games. Fans are desperate for a new game to play, with the last game launching in 2017. Rugby League 4 was widely panned by fans and critics and you would image they would be looking to rectify this as quickly as possible, however, it seems the chances of a Rugby League Live 5 are as far away as possible.
We see new FIFA, NBA, NFL & NHL games launching every year (from different publishers), and yet Australian sports are left out in the cold. This is a fact that is not being ignored by fans of the franchise, who are quickly growing tired of the lack of communication about any upcoming games.
Here's a word of advice to the NRL & Tru Blu. It's time to tell the fans what your actual plans are.
---
**Original Article**
Now that the NRL is back on our TV's, the Aussie gaming community is once again turning its head to what's coming up in the sports games pipeline. AFL Evolution 2 was released in early April and AO Tennis 2 dropped at the beginning of the year, but we're still to hear any news about an upcoming Rugby League game. For years, the rights to Official Rugby League video games have been with Publishers Tru Blu, with Big Ant the development team behind the franchise.
However, after the release of Rugby League Live 4, which was met with scathing reviews by fans and critics alike, both Tru Blu & Big Ant have been separately focussing on other sporting titles. For Big Ant, these include popular titles such as Cricket 19, AO Tennis 2 & Big Bash Boom, whilst Tru Blu have put out AFL Evolution 2 & Pharlap since Rugby League Live 4's release.
Despite the fact that the sports games being produced are undoubtedly worthy of plenty of playing hours, fans are desperate to see a Rugby League title back on their consoles. There have been whispers within the gaming community that the relationship between Tru Blu & Big Ant is at an all-time low following the debacle of Rugby League Live 4. If this happens to be true and the relationship is beyond repair, it throws into question the future of the Rugby League gaming genre.
Assuming that a new game is made in the near future, there are aspects of the titles as we know them that will need to be improved upon. Let's take a look at what improvements a new Rugby League game should make.
Less Focus On Graphics & More Focus On Gameplay
Rugby League Live 4's chief failing was its inability to give fans a game that flowed well and was easy to play. Sure, there are some fans who enjoy hard to play games. But for the majority of us, we just want a game that doesn't have a steep 20 hour learning curve just to figure out how to do simple things.
The flow of Rugby League Live 3 was admittedly much better, and that games mechanics would be a good place to start when looking at the bigger picture of an updated Rugby League game.
Rugby League Is A Game Of Subtle Nuances & The Games Need To Incorporate This
Rugby League can be a very, very simple game. If you only know it from the Xbox & PlayStation games, then it would seem agonisingly simple. However, the games we've received so far have left a lot on the table when it comes to nailing the split second timing and intricacies that the game can create. Whether this is as a result of technology and it's limitations or a general failing to understand the sport, i'm not sure – but what i would like to see in the future is a game where the ability to move & react is more in line with how it occurs in the real world.
Naturally, I understand that many Australian publishers and developers don't have the money to create expansive physics system like the ones seen in Madden or FIFA, but slightly more emphasis on in-game controls would create a world of difference while playing the games.
An Updated Receiving System For Attacking Kicks
The ability to place tactical kicks from short range is something that the Rugby League Live franchise has never struggled with. Users can place chips, bombs and grubbers which, if placed correctly, can put your team in a great position. But this is where the system usually stops. We would like to see an update to the receiving system after an attacking kick is placed. It's far too difficult to grab the ball and proceed to place it over the try line. We'd love to see tactical diving for the ball, or an updated way to catch a bomb or chip and not be instantly held up.
An In-Depth Management System Would Increase The Replay Value
Sports games are generally pretty good when it comes to their replay value. Often games with a single story line are hard to return to, but with sports games, you're presented with something different each time you run onto the field – and that's great. Rugby League games have been no different, and to this day I continue to play Rugby League Live 3, despite the fact it's almost 5 years old. But what I would like to see moving forward is more emphasise put into what you can achieve off the field through management or coaching modes.
In the past we've been able to transfer player and make small changes to a team's management, but that's normally where the process will stop. In future Rugby League games, it would be incredible to have a management system similar to that of the Rugby League Team Manager series. That series allows you to manage almost every function of the off-field roles of a coach/manager and it would be incredible to see these functions incorporated with the Rugby League Live franchise.
Regularly Updated Content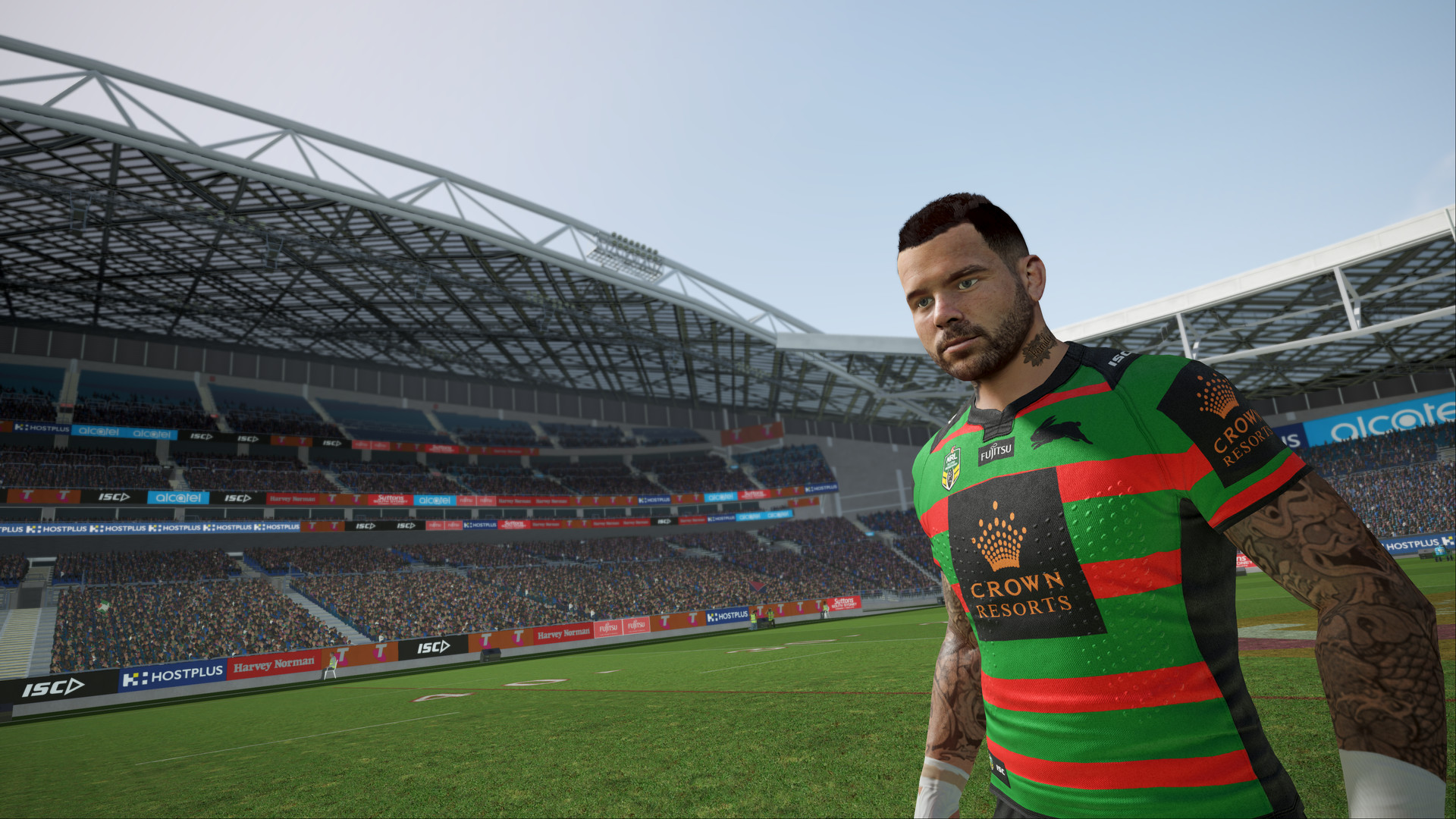 I'm fully aware of how much work devs put into games & their updates. I want to throw that out there immediately. However, with many of the older games, I've felt the lack of updates have made the games feel dated, quicker.
The games in the Rugby League Live franchise have thus far released every few years. That means, after the first year of its release, the content (including jerseys, players & stats) quickly become outdated.
If the new developer (whomever that may be) can provide the community with strong, yearly or half-yearly updates, it would dramatically increase the longevity of each instalment. A Rugby League game that can keep me happy and content for 3 or more years, would be an absolute dream.
---
What sort of changes would you like to see in future Rugby League games? Let us know in the comments below.
Find out the games we've listed in Our Top 5 Rugby League Games of All-Time.