WWE's latest PPV Hell In A Cell 2020 has wrapped. One of the few remaining PPV's named after a match stipulation, this years event saw 3 world titles defended in the titular structure, with a few other matches added to pad out the event somewhat.
Results:
Kickoff show: R-Truth (c) Def. Drew Gulak – Singles match for 24/7 Championship
1. Roman Reigns (c) (W/ Paul Heyman Def. Jey Uso – Hell In A Cell "I Quit" Match for the Universal Championship
2. Elias Def. Jeff Hardy by disqualification– Singles Match
3. The Miz (W/ John Morrison) Def. Otis (MITB) (W/ Tucker) – Singles Match for the Money In The Bank Contract
4. Sasha Banks Def. Bayley (c) – Hell In A Cell match for the Smackdown Women's Championship
5. Bobby Lashley (c) Def. Slapjack by submission – Singles Match for the United States Championship
6. Randy Orton Def. Drew McIntyre (c) – Hell In A Cell Match for the WWE Championship
The event started with the 24/7 title being defended in a standard singles match. This match was announced just before the event on twitter, and was basically any old 24/7 title exhibition match. It did it's job of furthering the rivalry between Gulak and Truth, with Truth expectedly picking up the win.
As often happens in these stipulation events, the Hell In A Cell matches were spaced out so as to not fatigue the crowd too much too fast. So as a curtain opener we saw Roman Reigns defend his title against cousin Jey Uso in the first ever "I Quit" Hell In A Cell match. This match was great all the way throughout. Roman dominated the early stages of the match. At times Jey would begin to gain some momentum and time and again that would be cut short by a spear from Reigns. Just as it looked like we were going to get another non finish to a Hell In A Cell match, Reigns attacked the ref, leading to the ring being swarmed by officials and Jimmy Uso along with them. Reigns turned his attentions to the second Uso, Jimmy leading to Jey calling quits and Reigns retaining the title.
The next match Saw Elias get the disqualification win over Jeff Hardy after Hardy attacked Elias with his guitar. This match could basically be seen on any other weekly show of RAW, but it served its purpose of breaking up the event. It's no surprise the guitar played a part in this match, as it generally does when it comes to Elias matches. It's not clear if this feud will continue or not, although it doesn't seem like a big enticement to tune in to RAW to see if it does or not.
Next we saw the fallout of the month long rivalry between The Miz and Otis over the Money In The Bank briefcase. The outcome although somewhat disappointing saw the Miz win the briefcase after Tucker turned on Otis and attacked him with the briefcase when the ref wasn't looking. Although it's good to see The Miz back in possession of the briefcase, it's a shame that it's at Otis' expense. As a result it's been a real waste of time investing in Otis as a possible world champion, and hopefully all participants in this match will go their separate ways on their respective brands and we don't have to revisit this well again.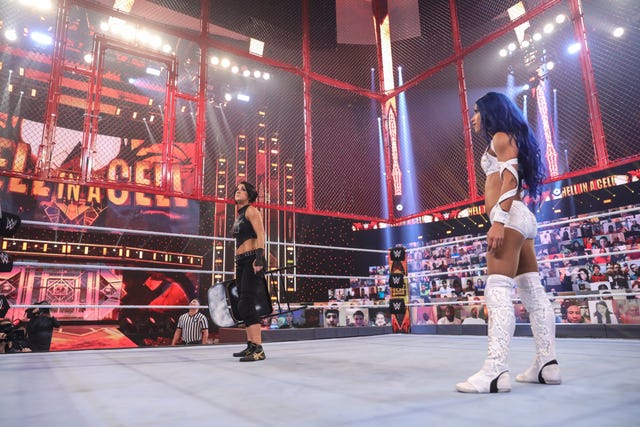 Next up we had the match of the night between Sasha Banks and Bayley for the Smackdown Women's Championship. This clearly should have main evented the event, with the storyline tensions between these two tracing back years. WWE had absolute gold on their hands with this match, being the first time these two once best friends turned bitter rivals go at each other inside the brutal Hell In A Cell structure. And it delivered in spades. The outcome was just as rewarding as we saw Sasha Banks finally end the almighty reign of Bayley and become the Smackdown Women's Champion for the first time in her career. There is still plenty of story to be told here, although it would be good to see these two kept apart for some time. This rivalry has a main event Wrestlemania feud written all over it, and I would love to see it revisited in the run up to Wrestlemania 37.
The following match, was another match announced on game day with one representative from The Hurt Business taking on a representative from Retribution. This was shoehorned in at the last minute to break up the last two Hell In A Cell Matches, and it showed. The Match itself saw Bobby Lashley submit Slapjack of Retribution and retain his US Championship. Once again WWE has buried this Retribution stable, and the poor promising young talents are going to have a hard time recovering their careers from this shocking jobber booking.
Finally the main event of the night saw Randy Orton bring an end to Drew McIntyre's dominant WWE title run in a Hell In A Cell to become a 14 time World Champion. This match was a good example of just because a match is long, it doesn't mean that its automatically a 5 star match. This was the same as any Drew vs Orton match we've had in the last few months, but they were just revisiting this time and time again until Orton won the championship. At one point there was a big spot where Drew fell off the structure onto the announce table, although the camera missed it. AT the time I thought it was all a tease to lead to The Miz cashing in his newly acquired Money In The Bank contract, leading some credibility to two very questionable booking decisions throughout the show. Alas it was not to be.
All together it was a somewhat disappointing show with 2/3 of the Hell In A Cell matches being exciting events, with a lot of time allotted to them. The rest of the show however was marred by either being very questionably booked, or just plain unnecessary.
Do you agree with our thoughts of WWE Hell in a cell 2020? Let us know in the comments below.